Lawn Mowing and Lawn Care Services Near Leesburg, VA
Why A Cut Above is Your Best Choice
Signup For Lawn Mowing and Lawn Care Services 100% Online!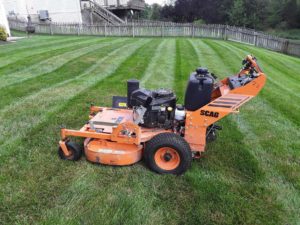 Introduction
Maintaining the beauty and health of your lawn in Leesburg, VA is crucial. Choosing the right expert for lawn mowing and service is key. A well-kept lawn not only enhances your property's curb appeal but also creates a pleasant outdoor space for you and your family to enjoy. In this blog post, we'll delve into why A Cut Above stands out as the best choice for expert lawn care in the Leesburg area.
Understanding the Importance of Lawn Care
A lush, healthy lawn offers numerous benefits beyond aesthetics. Expert lawn care helps improve air quality, prevent soil erosion, and increase property value. Professional service providers, including those in Leesburg, VA, play a vital role in achieving these benefits. With the right contractor, you can transform your lawn into a thriving outdoor oasis.
The Leesburg Difference
Leesburg, VA, boasts a unique environment and climate that require specialized knowledge. A Cut Above understands the local landscape and has extensive experience serving Leesburg and its surrounding areas. Our local expertise enables us to address the specific challenges and needs of lawns in this region with precision.
A Cut Above: Your Trusted Lawn Care Partner
Founded with a passion for creating beautiful outdoor spaces, A Cut Above has a long-standing reputation as Leesburg's premier choice for lawn care services. Our team of skilled professionals is dedicated to delivering top-notch services, covering everything from lawn mowing and edging to fertilization and more. With years of experience and industry-specific certifications, you can trust us to exceed your expectations.
Quality and Professionalism
At A Cut Above, quality and professionalism are at the core of our values. We take pride in our meticulous attention to detail and our commitment to delivering outstanding results. Our dedication to excellence has earned us industry recognition and a loyal base of satisfied customers who appreciate our expertise. But don't just take our word for it—read what our customers have to say in their testimonials and reviews.
Customized Lawn Care Plans
We understand that no two lawns are the same, which is why we offer customized lawn care plans tailored to your specific needs and preferences. Whether you need temporary services or a comprehensive year-round maintenance plan, we've got you covered. Our goal is to provide a solution that fits your budget and ensures the health and beauty of your lawn year-round.
Competitive Pricing and Transparency
A Cut Above believes that quality lawn care should be accessible to all. We offer competitive pricing that reflects the value of our services. What's more, we believe in transparency in pricing and billing, so you'll always know what to expect. Keep an eye out for any special promotions or discounts to make your lawn care investment even more affordable.
Environmental Responsibility
We're not just committed to your lawn; we're committed to the environment too. A Cut Above practices eco-friendly lawn care, using sustainable techniques and products that minimize the environmental impact. Our organic and low-impact options ensure that your lawn thrives without harming the planet.
Customer Satisfaction Guarantee
Your satisfaction is our top priority. If you ever have any concerns or issues with our services, we're here to address them promptly and effectively. Our success stories are a testament to our dedication to customer satisfaction.
How to Get Started with A Cut Above
Getting started with A Cut Above is easy. Simply reach out to us through our website or contact us directly by phone. We offer initial consultations and assessments to understand your lawn care needs better. Don't wait any longer; take the first step toward a beautiful, healthy lawn today.
Conclusion
In Leesburg, VA, where your lawn is a vital part of your property, choosing the right contractor for expert lawn care is essential. A Cut Above has the local expertise, dedication to quality, and commitment to customer satisfaction that make us the best choice for your lawn care needs. Transform your lawn into a stunning outdoor retreat with the help of A Cut Above. Contact us today to experience the difference for yourself.
Signup For Lawn Mowing and Lawn Care Services 100% Online!